What are the essential tools to repair your computer equipment ?
With experience and online documentation, many Internet users now have the knowledge to repair their computer equipment. However, the troubleshooters observed have complete professional tools at their disposal. Also, the tutorials rarely dwell on the tools required for repairs.
Users are thus blocked by the lack of adapted equipment.
What tools are needed to repair your computers, tablets and smartphones ?
Today, the lack of tools should no longer prevent you fromrepair your computer equipment. Indeed, you can now easily acquire your tools online. You only need to list the different items to include in your troubleshooting kit.
Therefore, you will be able to solve most of the problems related to the fragility of the parts or the programmed obsolescence.
Specialized stores can also be a deterrent for neophytes. Indeed, it is quite difficult to find your bearings in this type of business. The operation is even more complicated, if you are looking for specific elements. On the Internet, you have access to professional equipment such as Torx bits from the Bosch tool department.
You will thus gather powerful and resistant tools.
A box of precision screwdrivers
The screwdriver represents thebasic tool for working on a computer, a tablet or a smartphone. Most of the time, the parts are indeed fixed with screws on these devices. You will therefore need a set of conventional screwdrivers and another with interchangeable tips.
These will allow you to fit Torx screws of all sizes on mobiles and PCs.
However, it is strongly advised against using screwdrivers with magnetic tips. These magnetized tools can damage the most sensitive circuits and electronic parts. You should therefore avoid using screwdrivers and magnetic bits to avoid any potentially harmful interaction with components.
Connectors
You need various connectors to perform differential diagnosis on a computer. Sometimes, failures are simply due to a faulty or worn out connector. You will succeed in repairing a PC by a simple and fast intervention.
Also provide an IDE or SATA to USB connector to perform actions from outside a computer.
The tool can be used to connect a hard disk to recover data or to use an external DVD drive. This can then be used to install software, drivers, a new operating system… USB connectors also allow you to run a virus scan from another computer. This solution is particularly useful in case of a virus infection or a major bug.
Clamps of different sizes
Pliers are indispensable for manipulate and recover the small screws. Indeed, they often fall into the box during the operation. The small pliers are also needed to disconnect connectors and ribbon cables on mobile devices or laptops.
In addition, they will be useful for removing jumpers from motherboards.
On the other hand, you will need small pliers, to perform high precision soldering on wires. Computer and electronic parts require a high degree of precision. Therefore, pliers are your first ally during the repair.
You will need all sizes.
Cables
On a desktop, you should have 220 volts cables to avoid problems at this level during the diagnosis. The cable or the power supply is often at fault when the PC does not give any sign of life. You may also need printer cables, if your model is old enough. Obviously, this tool is useless on wireless devices.
That said, network cables are more useful on installations with an Internet connection. You will need all types and sizes visible on your equipment. Indeed, network failures are usually difficult to detect.
This allows you to work in segments. Consider also acquiring a network tester to identify anomalies of UTP, STP, BNC, IEEE origin..
A soldering station
The electronic soldering station allows you to repair damaged circuits or wires, among other things. In addition, some failures can be solved with a few soldering points. This way, you will save on repair costs, instead of calling a professional for a problem you have already identified.
You will also need a A fixing station with magnifying glass to better see the parts to be soldered. However, this tool is only suitable for people with surgical precision. It is better to avoid using it, if you don't have safe hands.
You risk injury or aggravation in this case.
Consider taking out insurance on your computer equipment
Besides curiosity, financial concerns sometimes incite users to improvise technicians. However, you can avoid this situation by taking out insurance for your hardware. In addition, there is currently a wide variety of contracts that can cover all your electronic equipment.
You can also subscribe to different insurances for your mobile devices and your computer installations. You will be protected against the risks specific to tablets and smartphones (breakdown, breakage, theft…). Your computer equipment will also be protected, from your box to your desktops and laptops. This time, avoid repairing your devices yourself.
It is often an exclusion clause.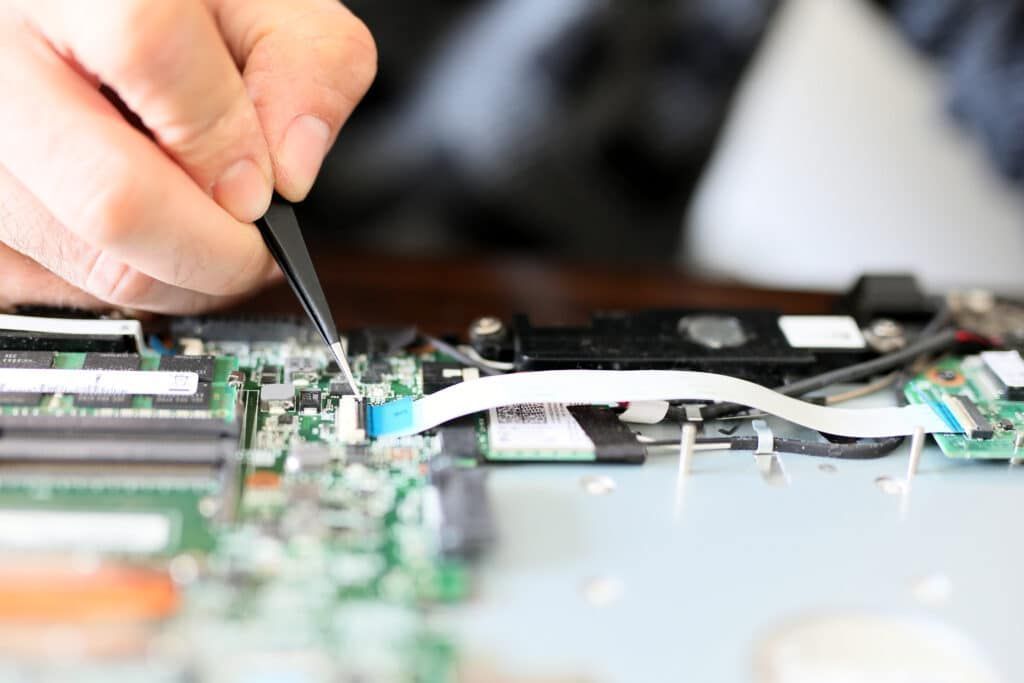 The backup of your data
Think about back up your data to protect you from the vagaries of computer and electronic equipment. Users now tend to store valuable information in these everyday devices. However, the components remain very fragile, despite their increased performance.
Some manufacturers practice programmed obsolescence. In this context, it is imperative to make backups of your most important data. Do not hesitate to use a multiple redundancy backup combining Cloud solutions and physical media (USB key, DVD, hard disk…).